Interview: Linka & Modella
What are you currently working on?
We are constantly in the studio preparing our next tracks and — why not our EP… We are curently planning our next collaboration with other artists in order to make us known by more and more people after this awesome release which we are really proud of!
How do you describe your own style?
Really festive, with a bit of aggressiveness, « f*ck genres » we could say. We love putting a lot of exclusivity and a lot of originality in our tracks and even in our sets while staying accessible to a wider audience. That is our style.
Which of your own tracks are you most proud of?
Vandal is one of the tracks we like the most. It truly brings together all the values we defend and the different elements we used are the ones we love; for instance that breakbeat pattern in the break and the drop which really fits to that « festive » signature we described before.
With which record of another artist do you think 'Shit, why is that not our track, why did we not make that?!'
Well, it depends because we don't always have the same pick at the same time. The one we both really liked was an old 2015 track of D.O.D, Blow Up that we still play in our sets.
Where did you get your inspiration for your new tracks 'Vandal' and 'Rotor'?
Vandal really embodies that vision we have of that festival atmosphere. We started a basic drop in the studio and then came Vandal out of our heads!
On Rotor, the idea came out from a sample pack made of strange and weird machine sounds; at that moment we knew we had to do a song with them!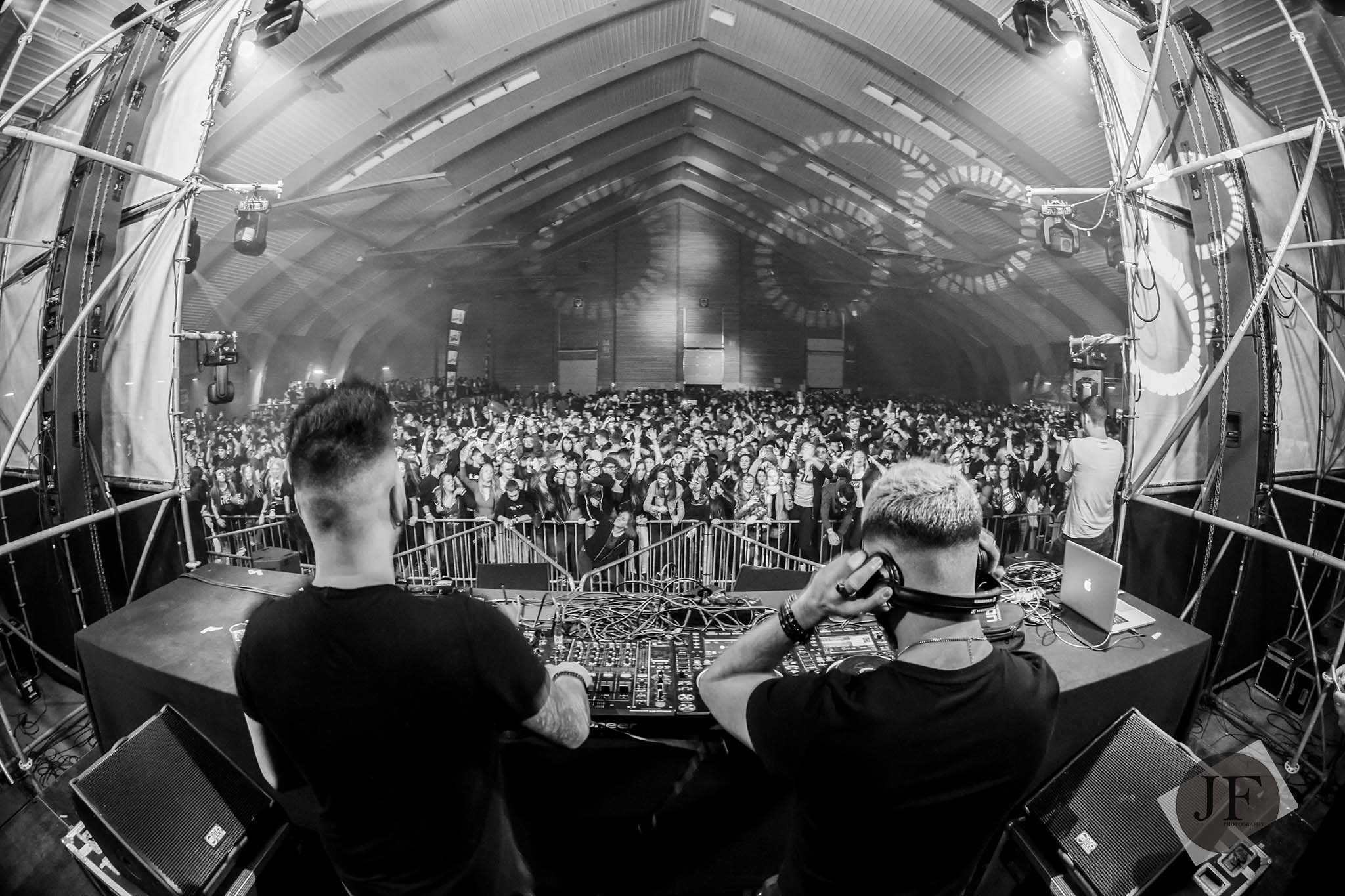 What kind of music do you listen to?
(Gaetano) I really enjoy staying in the same confort zone, in the same genres that we play live. But when I'm back home after a booking or if I want to chill a bit more, I use to listen to Deep House tracks. I already did have great moments enjoying Deep House music home alone, that is so relaxing.
(Pierre) When I'm not into my DJ-life and in my studio, I'm more into hip-hop music but of course I can't be out of EDM and Trap music for long.
What makes you different from other DJ's?
We love to play very unexpected mashups that give a surprise effect. We really bring an extra touch to the performance by being very close to the public, we also interact a lot with the crowd in order to establish a true link with it, it is very important for us. Sometimes in some shows we throw mascots, giant balloons, inflatable boats and we always try to create a special atmosphere in each of our sets.
Which colleagues do you look up to? And with whom would you like to work together in the future?
We are big fans of Hardwell! But collaboration wise, we would love to do another track with Olly James (we did Red Zone with him few years ago), but also love Mike Cervello's style, for example.
What is your ultimate dream for the future? And what is your goal to achieve in 2018?
One of our dreams is to collaborate with internationally renowned artists. We think this will add to our career a boost and we know we can afford it. By the end of 2018, we really hope to expand our audience abroad and really start having bookings in other countries!
Do you have a tip for novice DJ's and producers?
Do not rush things before sending your tracks to the labels. Start by doing a lot of mashups and bootlegs to get to know the tracks better. Do not be discouraged and do not try to please others before yourself; when a sound seems odd or the synth used is out of the ordinary it is necessary to go into this way, it is really important to think outside the box so do not stick to the rules and create your own sound, your own signature!
Produce or perform?
Tough one, we love both. Linka is more involved into music production than Mondello… Let's say we love producing to perform
Only one week per year abroad or only one week per year in Belgium?
It rains a lot in Belgium.. We would love spending only one week per year in Belgium, definitely! But we have to work way more before converting that dream into reality!
Falling from the turntable during a performance or accidentally stop the music in the middle of the live set?
We would rather accidentally stop the music in the middle of the live set than falling from the turntable for sure! Depending on the injury we probably won't never be able to continue our careers!
Self-enter lyrics for your own track or dance in the whole video clip?
Self-enter the lyrics by ourselves! We do not dance really well ?
Remix or own track?
Own track for sure!